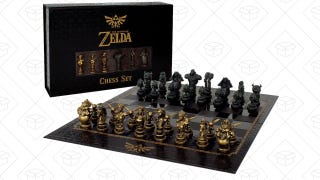 It doesn't have infinite options for exploration and 120 unique and challenging shrines, but this Legend of Zelda chess set still looks awesome, and is marked down to $44 on Amazon right now. That's the best price they've ever listed, so you won't have to smash too many pots to pull together the rupees you need.

Hey, listen. If you have a Wii U or Switch, and for some reason haven't bought Breath of the Wild yet, you only have two more days to save 20% on the game by ordering with Amazon Prime. Hell, even if you're waiting for the Switch to come back into stock, it might be worth buying the game early, since popular first…
The Legend of Zelda: Breath of the Wild is quickly becoming the game to have and right now, if you have Amazon Prime, you can knock off $12 a physical copy for the Switch. Better grab it while it's still in stock.

Hey, listen. This Prima Official Game Guide Box Set is sure to fill any Zelda fan's heart containers, and starting at 11AM ET today, it'll be marked down to its lowest price ever as an Amazon Lightning Deal. At most, this price will only be available for four hours, but it could very well sell out early.