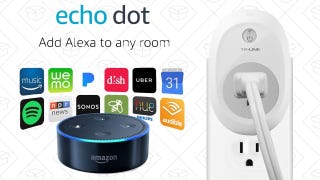 The Echo Dot for $30 is still one of the best deals out there right now, but you can also bundle it with a lighting product today to save even more.

While the Nest would beat it in a beauty contest, this Sensi thermostat has most of the same smart features in a more traditional body, and it's a hell of a lot cheaper.

It's not the best deal we've ever seen, nor is it likely to be as good as what we'll get on Black Friday, but if you're in the market for an Echo Dot, Amazon's marked them down to $40 today.

Anker, maker of your favorite... everything, and Alexa, which is quietly winning the smart assistant race, together at last. Launched under Anker's home brand, Eufy, the Genie starts at $35- the lowest price so far on Amazon's analog, the Dot, while the specs comparison is a mixed bag. I covered my condo in four of…
The Echo Dot is probably the best smart home device ever made, and if you've been waiting for a deal to scatter them all around your home, B&H (?) is taking $10 off today, matching the best price Amazon's ever listed. Plus, no sales tax outside of New York and New Jersey! Father's Day is on the horizon, and these make…