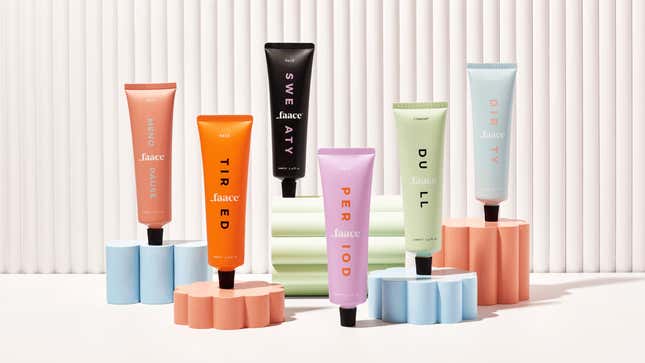 Navigating the beauty aisle can feel like decoding a foreign language, especially if you're new to the skincare scene. It can be even more difficult if you're just not sure about what works for your skin type. Enter Faace, the British beauty brand that aims to make skincare simple, comprehensible, and effective.
Snacktaku Drinks Pepsi's Time-Jumping 1893 Cola Flavors
Faace Skincare | Faace
Known for their "say-what-you-see" product line, Faace ensures you can pick out exactly what your skin needs without needing to do hours of research on ingredients you've never heard of. Their packaging communicates the purpose of each product, helping you understand at a glance what each product can do for you.
And Faace has plenty of options to choose from, from the soothing Period Faace mask to the refreshing Sweaty Faace mask, all to ensure you're taking care of your skin as efficiently and as comfortably as possible.

Period Faace Face Mask uses hyaluronic acid and lavender to help your skin during that time of the month
Tackle your monthly skin woes head-on with Faace's Period Faace Face Mask. This unique gel mask, designed to be used before, during, and after your menstrual cycle, promises to stabilize fluctuating skin conditions and prevent unwanted breakouts. The magic lies in its potent mix of ingredients - hyaluronic acid that maximizes skin hydration, green tea to counteract sun damage, and calming lavender to harmonize your hormonal skin.
Alongside these, the duo of zinc and clary wage war on breakouts, while white willow introduces salicin, a salicylic acid offshoot, to reduce pores and refine your skin's texture and tone. It might not be a remedy for menstrual cramps, but this powerful blend promises to keep your skin fresh and vibrant.
Vitamin C and antioxidants make Sweaty Faace Mask a must have for all workout lovers
Revamp your skincare regimen with the Sweaty Faace Face Mask, specifically formulated for use pre, during, or post workout. It's also an ideal primer for makeup, particularly for those with oil-prone skin. This mask does it all - moisturizing, soothing, toning, and unclogging pores, while supplying your skin with a generous dose of vitamin C and antioxidants. It's your skin's personal trainer, preparing it for the workout of the day.
Key ingredients include argan oil, which boasts a great balance of omega fatty acids and vitamin E to moisturize and unclog pores, grapefruit for a vitamin C boost, and bergamot to combat blemishes. Also featuring antioxidant-rich lavender and galbanum for a deep cleanse and refresh, and patchouli to add a bounce to your skin, it's the revitalization your overworked skin craves.
Your body and skin's needs change over time. That's what Faace's Menopause Daily Face Cream is made for.
Navigating through perimenopause and menopause is challenging enough without your skin throwing a tantrum. That's why the Menopause Faace Daily Face Cream is designed to restore normalcy to your complexion. Loaded with collagen-boosting, super-hydrating, and anti-inflammatory ingredients, this comforting cream puts you back in charge of your skin health.
The blend boasts rose water for soothing hydration, antioxidant-rich carrot seed and pomegranate oil for a plump, healthy look, and rosehip oil paired with rose flower oil for a youthful radiance. With an added multivitamin mix of sea buckthorn, immortelle flower oil for an extra glow, safflower seed oil for tackling dryness, and zinc to ward off breakouts, this cream supports your skin through the hormonal rollercoaster. While it may not be the solution to hot flashes, it certainly is a trusty ally for your skin's journey through menopause.
Faace's bundles let you build the skincare routine that suits you and your skin
Looking to refresh your skincare routine while also keeping your budget in check? Then Faace's bundle deals might just be your answer. These carefully curated sets combine a variety of the brand's best-selling products, offering an all-in-one solution to your skincare needs. Besides the convenience of having a complete skincare regimen in a single purchase, these bundles also come with a delightful bonus: they're priced lower than if you were to buy each product individually.
Get the Menopause, Tired, and Sweaty mask bundle to tackle three different issues and save money. You could also get the Period Faace Mask and Dull Faace Cleanser to brighten up skin with a one-two punch while you're feeling a little down during that time of the month. You can shop based on skincare needs, and buy what you need at a discounted rate. It's all about customization, which Faace can help make even easier with its personalized bundle options.