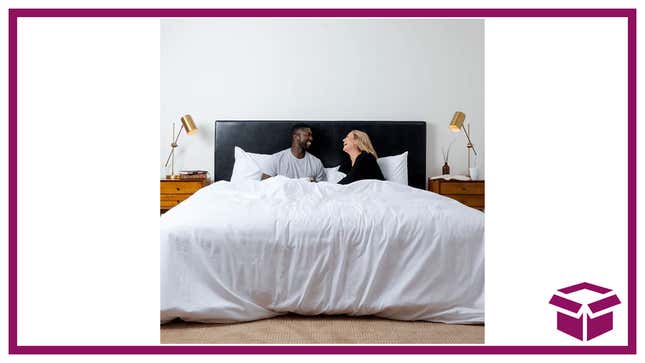 Big Blanket was created to solve a simple problem: people are taller than their blankets. No wonder they have 7'4" tall person Boban Marjanović in their pictures: that's one tall basketball player who needs one big blanket! Even if you're average-size, there is nothing like being swaddled in a big 'ol blanket.
20% off Sitewide | Big Blanket

Crank that air conditioning and cuddle up! Do you like movie nights? Big Blanket! Camping in the spring when it gets spooky and chilly at night? Big Blanket! Taking a midday nap with your cat? Big Blanket! Within this sale, you'll also find hoodies, linens, and custom blankets too—a cozy object for every individual. Right now, you'll even find 20% off sitewide.
Quality Bedding for Everybody!
Whether you are shopping for mom or your new apartment, Big Blanket's quality bedding is sure to stun. You can bundle and save, too—this bundle takes 25% off all the essentials. Yes, you get the biggest duvet anyone can dream of, one to pretend to hide under when horror movies get too scary. But you'll also grab the sateen of your dreams in pillowcases, a duvet cover, and sheets. These are crisp sheets with deep pockets that actually fit your bed. The strong elastic and "top," "bottom," and "side" labels also help on laundry day. That 100% cotton sateen weave is a 300 thread count—super soft and super smooth. Now you'll have every excuse to stay in bed on Saturday morning.
Sometimes You Just Want a Big Hoodie
Another gift idea—or just a gift for yourself—is Big Blanket's oversized hoodie. When we say "oversized," know it's oversized. It's more akin to a robe than streetwear, and hey—that's why we like it. This hoodie is tricked out: it has a cozy sherpa lining with Big Blanket's proprietary polyester-spandex blend on the outside. That's soft! Within its plush shell, you'll find a built-in eye mask for snoozin', a snack-bag-sized zippered kangaroo pocket, and thumb holes. Thumb holes! Relive your middle school emo moment! These fit up to XXL in unisex sizing and trust me: 38" neck-to-base is a super-duper long hoodie.
Custom Blankets to Gift Everyone
If you're already a Big Blanket fan and you're thinking, "How can I give a Big Blanket to everyone?" We have an answer: custom blankets. This is basically gifting solved, regardless of the holiday. Got a family inside joke? Big Blanket can make that—and in multiples too. That's a gift for everyone in your family. They'll also embroider logos, which looks nice for, like ... giving everyone at your company a blanket. You run one of those, right? Anyway—moms, employees, or family reunions, these custom Big Blankets are the big-brain gift idea.
Originally written by Erin O'Brien on 5/10/23 and updated with new information by Miranda Martin on 5/15/23.