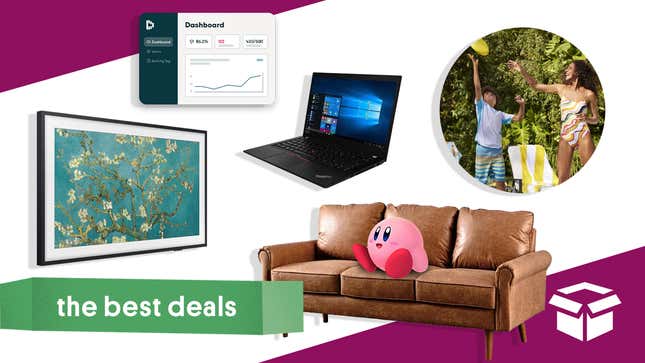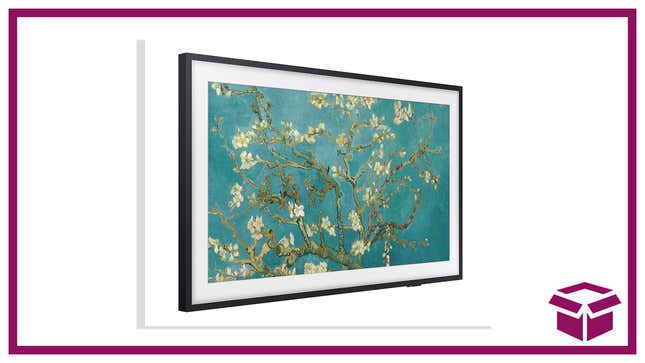 Seriously, do not miss this deal: Samsung's "The Frame" Smart TV is on sale for Memorial Day at up to $800 off. This is one of the most stylish flatscreens on the market, designed to hang flush against the wall and disappear into your decor like a work of art when you aren't using it. With anti-reflection technology, images of works of art displayed on the screen look like the real thing, and you can select from four different frame styles to match your home. The sale — up to $800 off — applies to sizes from 43 all the way up to 85 inches. With Samsung (which is running a bunch of deals this holiday, including $200 off a soundbar to pair with your new TV), you know your investment will be worthwhile. The company promises to make the process of buying and installing your TV easy. And if you check out the sale page, you'll see they're promoting additional special offers, too. Customers across the Internet rave about "The Frame" — get yours today for up to $800 off.
Save Big Now Through Memorial Day With Up To 76% Off Laptops at Lenovo

Promo Code SURPRISEOFFER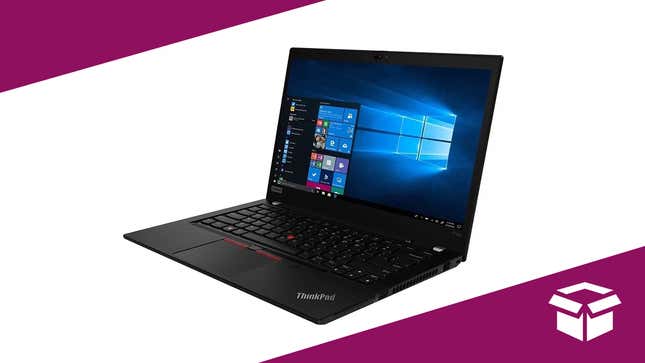 If you're ready for an upgrade ahead of Memorial Day, look no further than the massive doorbuster 76% discount on the ThinkPad line at Lenovo. Make sure to take advantage of Lenovo's holiday deals by stacking them to save even more! Get an additional $25 off $500, $40 off $750, $60 off $1000, and $100 off $1500. Creatives, dreamers, and gamers alike have incredible entry points on Memorial Day at Lenovo with code GAMINGEXTRA until June 4 for an additional deal on the already hot 43% off the highly rated Legion 5 Gen 7, complete with an RTX 3070 Ti, perfect for use with gaming and the latest AI applications. This is the perfect time to jump on up to 20% off gaming laptops to travel for the Summer, starting at just $760 in your cart with code SURPRISEOFFER from now to May 31.
Promo Code MEMDAY23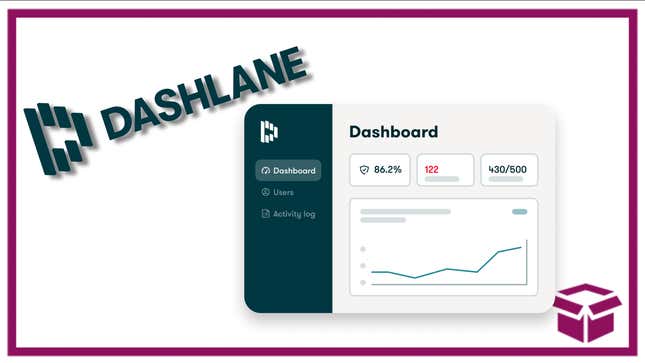 Cybersecurity is serious business. Take it seriously with Dashlane, a powerhouse tool that keeps your passwords safe while offering a variety of features designed to help protect and simplify everything you do online. It doesn't matter if you're looking to feel safer online or if you just need premium security features for your business. Dashlane can make life easier in a snap, all just in time for Memorial Day. Right now, through May 30, you can save 50% on new Dashlane Premium Plans. This limited-time Memorial Day deal, which you can activate with promo code MEMDAY23, nets you Dashlane's formidable toolset that keeps your online data safe for a discounted rate.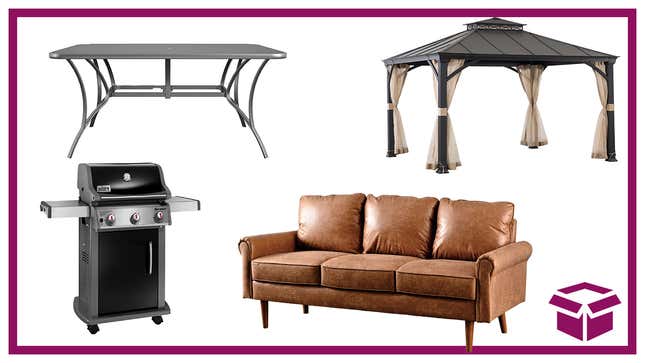 Wayfair has kicked the Memorial Day sale season into high gear with a massive clearance event, with deals of up to 70% off indoor and outdoor home goods running from now all the way through the holiday weekend and to the end of the month. Area rugs for both indoor and out are up to 70% off during this huge event. Outdoor furniture and outdoor lighting and decor are up to 60% off, just in time to get your deck or patio ready for the summer. If you're looking for big savings on big-ticket indoor home goods, you can take up to 37% on GE appliances, and up to 50% on mattresses. It's a week and a half of huge deals at Wayfair during the Memorial Day Clearance event, so get a jump on the rest of the crowd and check it out now.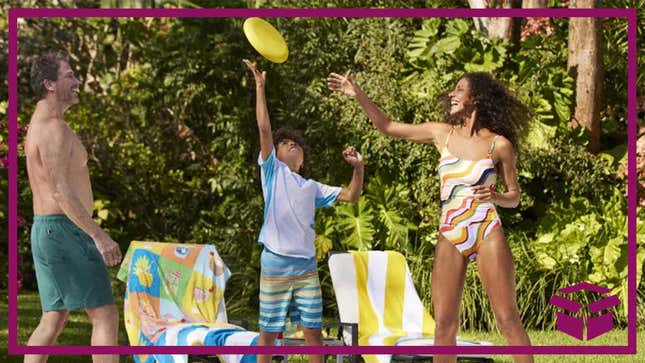 The only thing better than the much-needed 3-Day weekend is all the 3-Day sales that accompany Memorial Day Weekend. And Macy's has one that you definitely will want to check out. With up to 40% off and an extra 20% off select sale and clearance items using code MEMDAY, this will truly be a holiday weekend to remember ("A weekend of fun AND savings?!"). Macy's has you covered with everything from clothing to swim gear, jewelry, shoes, handbags, furniture and more. This is a storewide sale, so there's something for everyone and every occasion (Happy Father's Day indeed!). But just like the holiday weekend it only lasts through May 29th!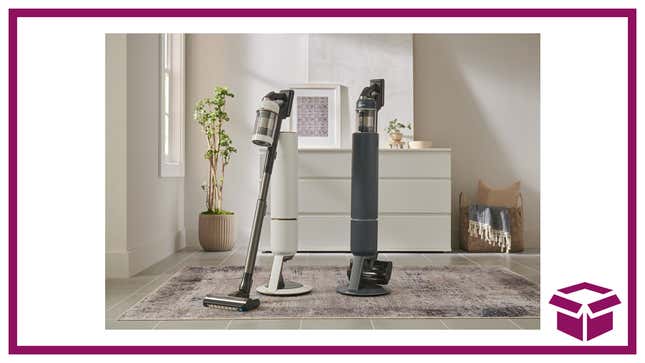 High-tech home appliances meet artful elegance this Memorial Day with up to $175 off the Bespoke Jet cordless stick vacuum that provides 210AW of power that will clean up any Summer mess. All the dirt tracked inside from ball games and cookouts is easily tackled with an hour of run-time per charge and included all-in-one cleaning station. The digital display on the Bespoke Jet cordless vacuum shows power level, battery time, alerts, and more, so you never have to guess when one of those legos someone forgot to pick up gets stuck or the battery gets low right before you're ready to clean. And if you've ever experienced a high filtration vacuum, you know just how much of a difference such an intricate 5-layer filtration makes on both your allergies and how it cleans the air throughout the room. The Midnight Blue colorway, in particular, pulls any room together with an artistic, modern spin on the vacuum.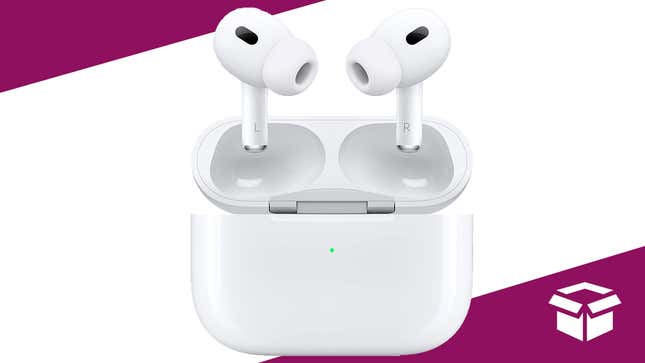 Apple released the second generation of its hyper-popular AirPods Pro not long ago, but already you can get a major discount at 20% off their full price over on Amazon. These earbuds feature 2x stronger active noise cancellation, longer battery life that'll get you up to 6 hours of listening time when ANC is enabled, and 30 hours of total listening time thanks to the MagSafe charging case. It comes with a new smaller silicone ear tip for tinier ears, a new chip, enhanced Bluetooth, and more. The best part? Everything listed above is just all the new stuff compared to the first generation or AirPods Pro. Compared to Apple's standard Airpods line, these blow them out the water with ease. In other words, you can't afford to miss out on this upgrade.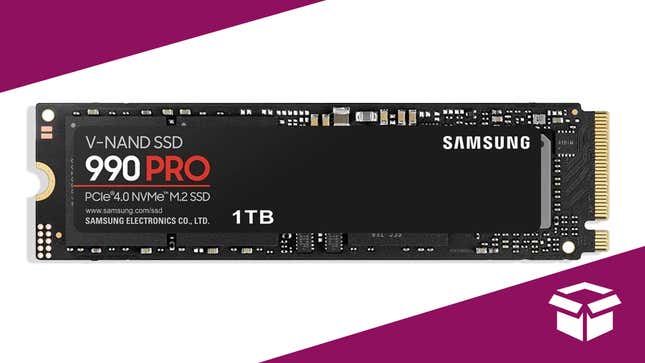 The PlayStation 5 comes with an 875GB SSD. At first glance, that may sound like a lot. But after factoring in the system software, you're looking at about 667.2GB of usable space. Then when you consider games like Destiny 2 are coming in at over 100GB a pop, that SSD is going to fill up fast. Thankfully, the internal storage can be expanded with SSDs available from third parties. Samsung is having a sale at the moment on its 990 Pro solid state drive. You can currently get a 1TB SSD for $100. This is the version with the built-in heatsink which requires nothing else to install into your PS5. The 2TB version is also down to $170.

Memorial Day Sale: Take 60% Off Sitewide at Jachs NY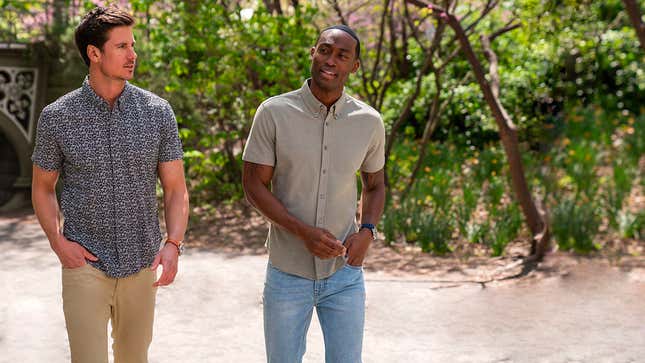 Summer is upon us. Do your favorite summer outfits still hold up? Or do they need re-examining? Maybe you want to pack an extra pair of shorts for vacation—because, as the Beach Boys say, god only knows what you'll get up to. Luckily, until June 1 you can take 60% off sitewide at Jachs NY for some sweet, sweet summer buys. Inside the sale, you'll find staple polos, outdoor dinner staples, and camp shirts for days. Not to mention shorts. Shorts! Check out some of our favorite picks below. And, as always, free returns.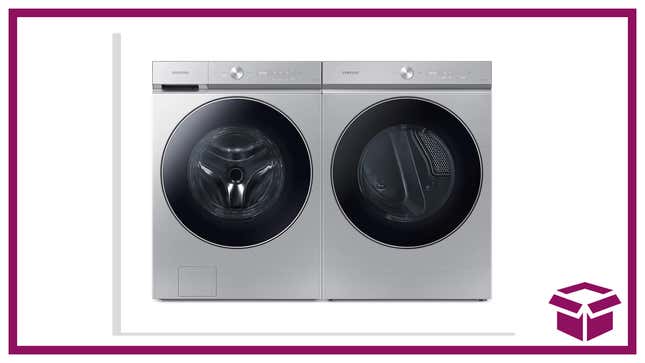 For some of us, laundry is the worst chore of the week and we are over it. But imagine if your washer and dryer used AI to make the process faster and easier. For a limited time, Samsung is offering $1300 off a washer-dryer set that does just this, automatically picking the best settings for your clothes and learning your preferences over time. The Bespoke Ultra Capacity AI Front Load Washer and Electric Dryer offers the industry's largest capacity washer in its class and can complete a full load of clothes in under an hour. And now, the set's available for just $2098 after that $1300 discount (they're also offering a deal of $174.83 per month for 12 months at 0% APR).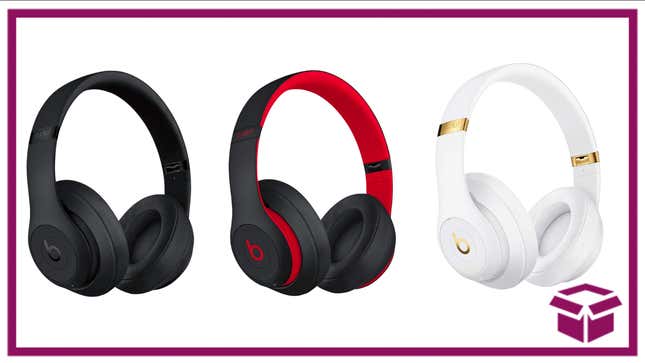 The quest for a reliable pair of over-the-ear wireless headphones with good noise cancellation is a never-ending one. Either the cans you have in mind don't have all the features you want, their noise cancellation ability isn't great, or they're too expensive. Well, it looks like your search may have just ended. Meet the Beats Studio3 Wireless Headphones, now 52% off at Amazon. This top deal offers some seriously sweet savings on a pair of really great headphones. I have a couple pairs of these headphones, and I love throwing them on and blocking the world out. They're perfect for when I want something with a little more oomph than earbuds. Their Pure ANC feature actively blocks out all that annoying background noise (like crying babies or road construction), so you can focus on your tunes or podcasts. Whatever you listen to. Plus, they have a great 22-hour battery life, so you can enjoy wireless playback all day long. You can also grab them now in a variety of colors for $169.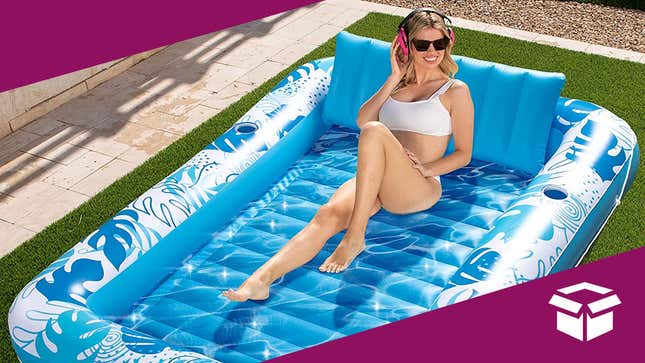 Summer is here. Time to lay outside in the sun — listening to music, reading a book, and working on that tan. Do so as comfortably as you can with the help of an inflatable lounger. This extra large tanning bed here by Sloosh can be used either directly on the lawn or used as a pool float. It measures in at 85" long and 57" wide so you'll have no problem fitting more than one person on it. The built-in pillow provides your neck and back additional support and the ribbed air cushion base makes your sun tanning experience even more cozy. Typically this pool lounger tanning bed goes for a full $60. At the time of writing, it's been marked down by $10 and you can save another $10 by clipping the coupon on the item page.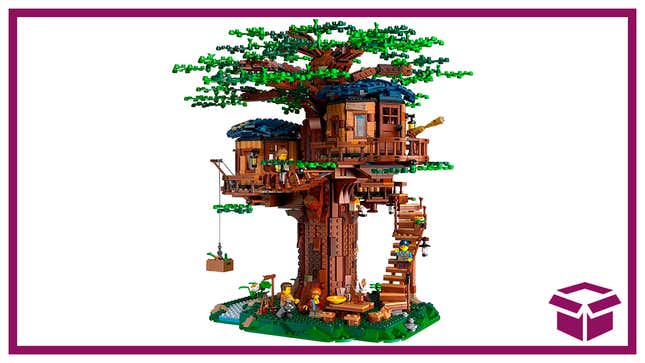 Two bedrooms, one bathroom, a yard, and it's all made out of plastic. This Lego treehouse is a fantasy of a summer vacation that never was—and rings in at $199 at its current deal. Comprised of 3036 pieces, this set will get the whole family involved as they build the interiors and exteriors of this beautiful treehouse home and place their (included!) minifigs into the scene. There are lots of little secret details in this treehouse, too, like a wind-up crane and a tiny-tiny ship in a bottle. The kicker? This one has interchangeable leaves. When autumn rolls around, swap the green leaves for the golden ones. Make this adorable Lego treehouse a year-round retreat for your family. $199 is a hell of a lot cheaper than buying a cabin upstate.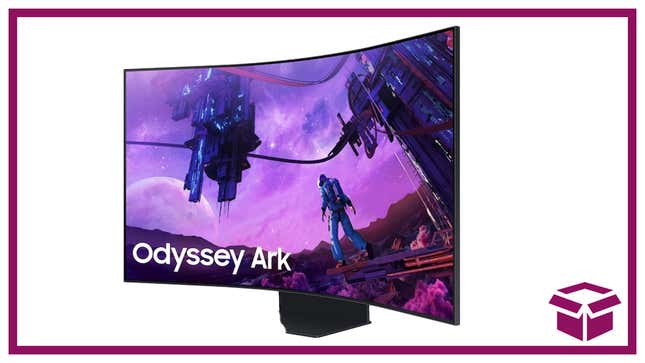 Today's epic drop (so far) from Samsung is the incredible 55-inch Odyssey Ark 4K UHD Curved Gaming Screen, marked down by a cool $1,000. This amazing gaming monitor is a spectacular deal for $2,000, down from its regular price of $3,000. When Samsung has a sale, you know Amazon is going to drop their prices to compete, so the bestselling 55-inch Odyssey Ark 4K Curved Gaming Monitor is down to $2,150 on Amazon today as well. Amazon doesn't tell us when they're going to change prices, but it's a safe bet that if you want this monitor at this low price, you'll want to grab it today.
Clip Coupon
Here's a great deal for city commuters: The Oraimo 26-inch Electric Mountain Bike is just $500 on Amazon when you double the $100-off deal by clicking the on-page coupon. A 15-minute rapid charge gets you a full 7 miles of riding range, while a full 3-hour charge increased the range to between 28 and 35 miles of pure electric riding and up to 45 miles of pedal-assisted riding. This 21-speed bike is the perfect ride for city dwellers, but it's equally adept on the trails, as the 350-watt motor can send you cruising at up to 20 mph and make climbing those rugged hills far easier. This 4.5-star rated bike has not been at this low price in nearly three months, and the weather's just right for you to get out and hit the roads. Don't forget to click the on-page coupon to double your deal!
Crocs Is Offering Up to 50% off Select Styles for Memorial Day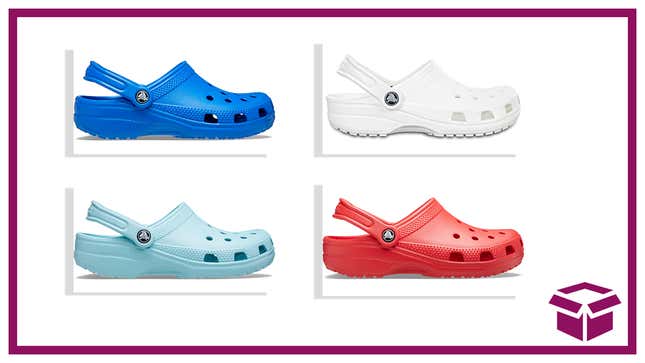 There's never a bad time to invest in a pair (or three) of Crocs. But this Memorial Day, America's favorite irreverent footwear brand is offering a great sale — up to 50 percent off select styles, plus an extra 20 percent off any discounted item. Check out shoes for the whole family and use promo code MEMDAY20 to lock in the extra savings for a limited time only. With more than 27,000 five-star reviews, you can't go wrong with the brand's Classic Clog, now available in nearly 30 colors. But Crocs is a lot more than the shoe that made it famous. Men, women and kids can choose from a variety of styles for all seasons. Fans of brands like Disney and Marvel will find unique designs. And as always, Crocs are water-friendly and easy to clean, making them a great choice for summer. So check out the Memorial Day sale today before the discounts end — up to 50 percent off select styles, plus an additional 20 percent off discounted items with promo code MEMDAY20.
This Bluetooth Portable Printer Is Just $68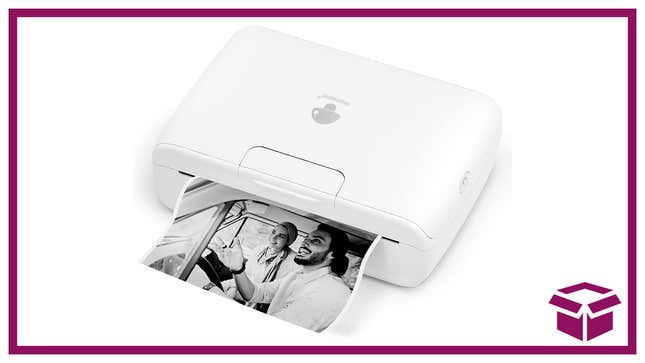 A mini Bluetooth printer makes for a fun little tool or even a gift. A great thing to bring on a vacation or bachelor/bachelorette party. Honestly, I love my little thermal printer as a DM for Dungeons & Dragons. Makes it easy to print out monster stat blocks on the fly to use as a quick reference when running a session. This one here requires no cartridges, toner, or ink – just the paper. Connect it to the app on your phone via Bluetooth to print photos, PDFs, and more. Typically this Bluetooth portable printer goes for $120, but right now it's 43% off. That brings the price down to just $68.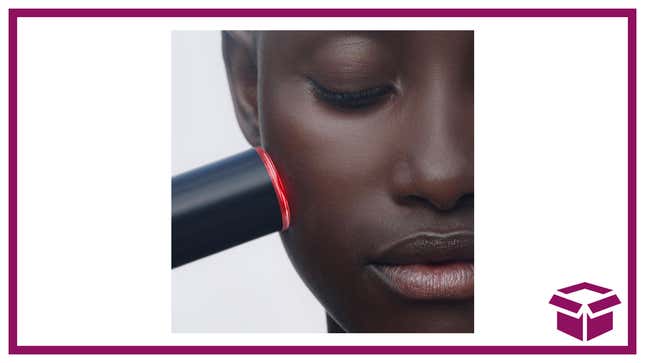 If you want to enhance your skin's natural beauty, you may have to make some sacrifices. But with the LymaLaser Light Therapy device, you can easily manage those sacrifices from the comfort of your home. This cold laser therapy device is a major technical breakthrough priced at $2695 and a worthwhile investment for your beauty routine. Instead of superficially treating the skin like its less expensive counterparts, Lyma dives deep, obliterating imperfections and energizing your skin cells. Pioneering in its category, it matches the power of in-clinic lasers, boasting an impressive 500mW of interrupted laser beam light while remaining cool to the touch.
This Ultra-Durable Coleman Cooler Is $150 Down From $200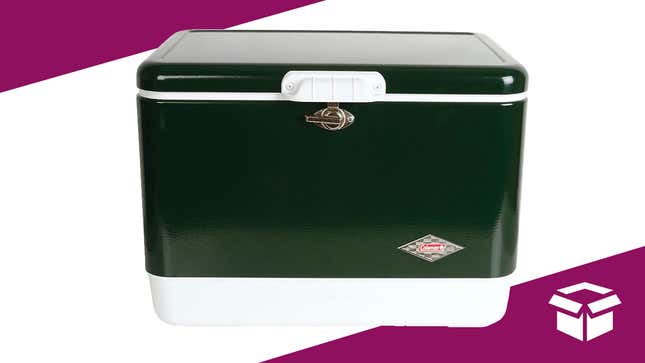 Hot weather, cool drinks: what could be better? Grab this Coleman steel-belted cooler for $150 at Amazon to make sure you always have a cold one on hand. Heavy-duty and high-capacity, this cooler keeps drinks cold for up to four days! That said, it's perfect for taking on a family camping trip or to the beach for a long day. It'll keep ice frozen til temperatures hit the 90s (Fahrenheit, that is). Stainless steel is so much better than your insulated plastic; it's stain-resistant and totally solid, built for many summers of use. Did I mention it holds 85 cans? It holds 85 cans. A lot of cans. $150 is the lowest price it's been in a while—and probably the lowest it'll be for the summer. Stock up, and keep those drinks ice cold.
Stay Clean While Camping With a Travel Shower Bag for $22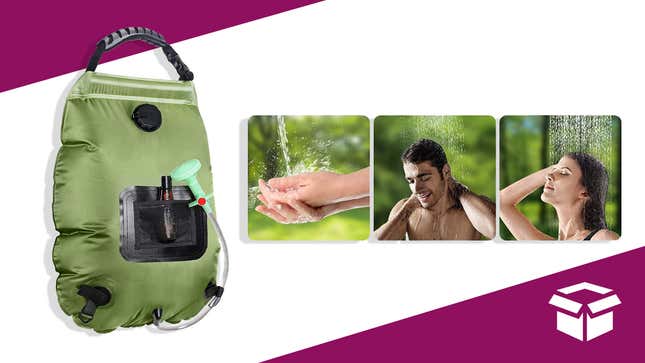 Are you someone who loves outdoor adventures, camping, or hiking? That's all fun and dandy but you know how important it is to stay clean and hygienic while away from home? What do you do when there's no shower in sight? Enter the travel shower bag. Just fill it with water and hang it on a tree branch, your car, or whatever else is around you—an instant shower. You can get roughly three showers in on a single fill so it's great for small groups. The camping shower bag is currently 45% off. That brings it down from the full price of $40 to just $22. Make sure to take it with you on your next camping trip or to your next overnight music festival.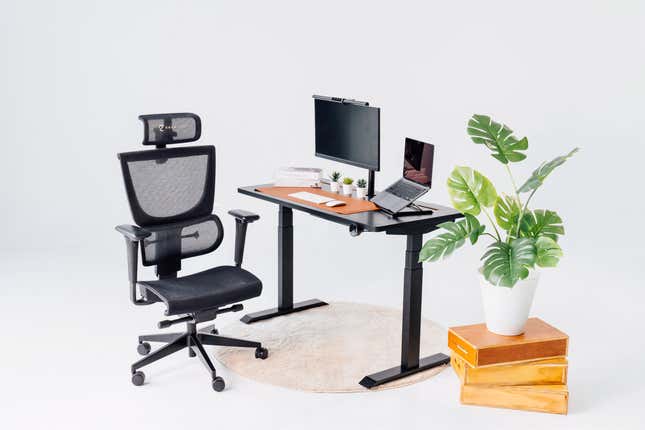 If you spend a significant portion of your workday sitting at a desk, or you're an avid gamer, finding a comfortable, ergonomic office chair that doesn't break the bank has been extremely difficult. ErgoTune Supreme, the fastest growing chair brand in the world will be available to order directly through the company at a launch price of $569. There's a reason ErgoTune Supreme has sold over 30,000 units to date and has received rapturously critical acclaim: They offer the thoughtful, flexible design, quality, and comfort for what real human bodies do every day and breathability that the legacy brands do, and for a ton less. Get one of these chairs, so you can get more work done – or go on that 20+ hour NBA 2K23 run in style and comfort.

Target Summer Sale: Grab a Charcoal Grill for Under $100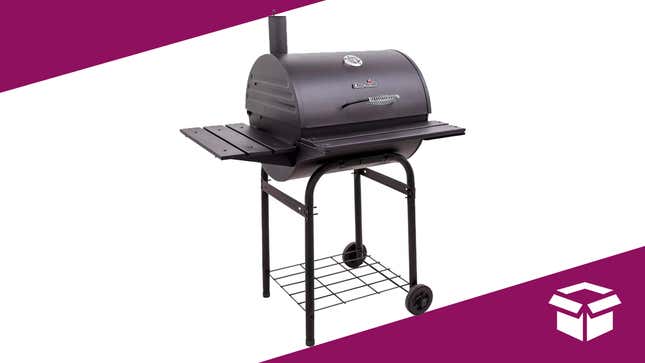 If the calendar and social constructs of Memorial Day weekend are right, it sure is about to be summer. Your time is soon to be spent outdoors at least two days a week. Peak barbecue season, baby! Target's Summer Kickoff Sale is celebrating with category-wide sales. We especially like this 24" charcoal grill for only $82. The 640 square inches of total cooking space on this cast iron grill cook up the most delectable burgers and veggie kebabs. You can also adjust the charcoal grate to control the intensity of your cooking heat for always-perfect food. Doesn't hurt that there's a little prep table attached to the side of the grill's rust-resistant body. You know, for sauces and stuff. Shout out to Target's Summer Kickoff—a grill under $100 is hard to beat.
Amazon Gaming Week: Grab Gaming Essentials From Asus, Logitech, and Alienware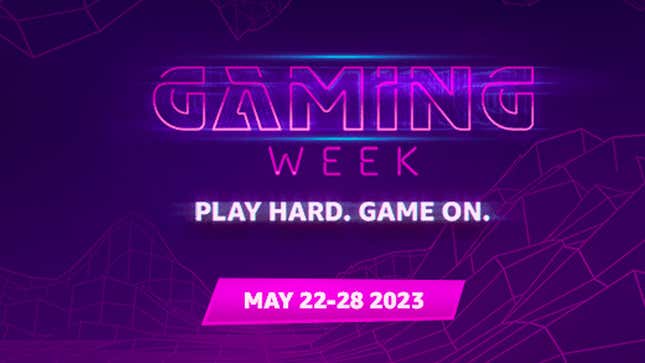 Outside, it's heating up. But inside? It's air-conditioned, and you have everything you need for a great summer: a gaming rig. The only thing you need to do is sit down and play—or maybe add a few finishing touches during Amazon Gaming Week. You'll find deals from Asus, Logitech, and Alienware, as well as games, PC upgrades, monitors, and a hell of a lot more. Take 20% off HyperX Cloud headphones, an extra $50 off an Asus laptop, or $400 off an Alienware laptop. Add a 24" Dell gaming monitor for $170—a great second screen to accompany the massive one on your desk already. Grab some deals on some favorite console games and storage from Samsung. Basically, if you need it, this Amazon sale's got it. Spiff up that setup and enjoy your summer—the indoors way.

This Sit-Up Bench for $62 Will Help You Get Fit for Summer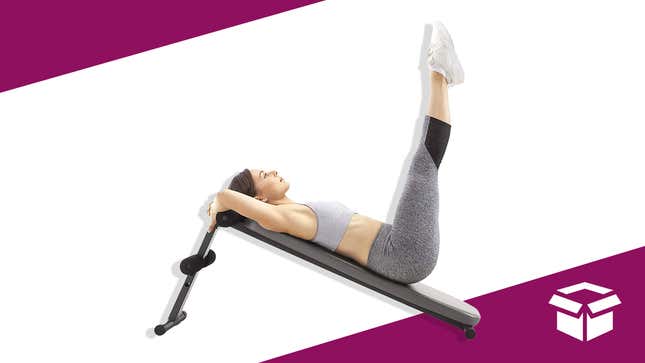 Summer is just around the bend. Get your workout in at home with the help of a pull-up bar stand. Sculpt your core by working your body against gravity with sit-ups, leg lifts, decline dumbbell presses, and more. The Macy Apex Utility Bench makes for the perfect home gym with a footprint of only 51" by 13". The adjustable roller pads let you safely perform exercises and its foot anchors can be adjusted to three different positions. Normally the sit-up bench goes for $120, but you can score it right now for just $62. That's nearly half off from its original price.
Catch Your Favorite Shows Inside Or Out for $99 on Bigasuo Projector
As Summer begins, it's time to think about outdoor entertainment! What better way to share films, shows, and games than with an outdoor 1080p resolution projector from BIGASUO at 57% off? The included 100" screen means you're ready for hours and hours of outdoor and indoor entertainment, with HDMI connections and Bluetooth ready for all your connected devices. Bringing the movie theater experience home has never been easier on the wallet, and with a max viewing screen of 250", favorite games, shows, and movies can be projected as large as you've dreamed from the comfort of your home or in the middle of nowhere. Many of the 5-star reviews on Amazon note the incredible price, and they're right. This is a great deal for any Summer occasion, especially at only $99.

Take $40 Off An Apollo Neuro Wearable, Just In Time For Father's Day
Promo Code DADSDAY40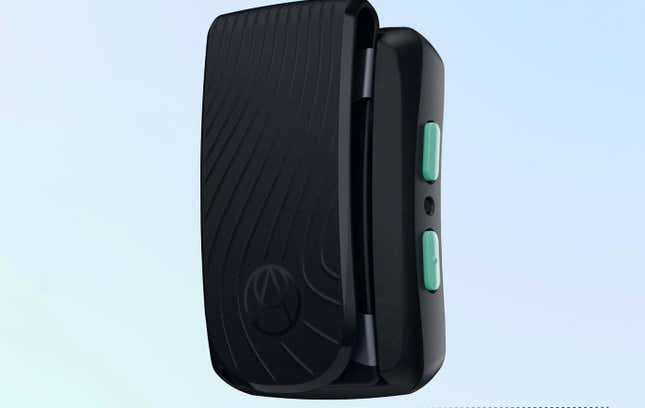 Mother's Day has just passed. And unless you've been living in a cave or under a rock, you know what that means: Father's Day is just around the corner. Why not get dad an Apollo Neuro wearable? It's a secret weapon that will make him a better father, employee, friend, athlete, and lover. Developed by neuroscientists and physicians, the Apollo Neuro is the first scientifically validated wearable tech that employs novel touch therapy through soothing vibrations from low-frequency sound waves felt from a wearable that could be worn on band around your wrist or ankle or as a clip attached to a shirt collar. These soothing vibrations help reduce stress – and helps give the user more power over their moods and mental health. And from now until Father's Day, you can save $40 with the code DADSDAY40!
Today's Discover Samsung Deal: Take $200 Off This 4K Smart Monitor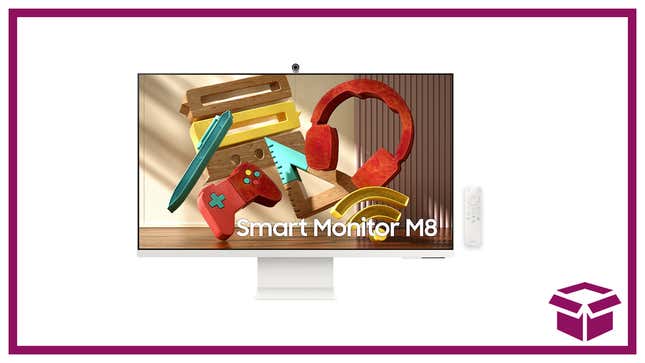 Today's Discover Samsung deal is a huge work-and-play winner — the M80B Smart Monitor with Streaming TV and SlimFit Camera is just $500, down from $700. This crystal-clear 4K UHD monitor, also available on Amazon for $496, lets you stream, do video meetings, and even work without a separate PC. PC-less productivity and entertainment with seamless integration via Samsung Workmode, Samsung DeX for mobile devices, and Apple AirPlay make this monitor truly, well, smart. It supports Netflix, Hulu, and YouTube, and it easily connects to other IoT smart devices via Samsung's SmartThings app. The SlimFit camera tilts for the perfect angle, has a built-in cover, and can also fully detach from the ultra-thin 0.9-inch body. Head over to Samsung or Amazon now to grab this hot deal.
These Apple AirTags for 10% Off Will To Keep You From Losing Stuff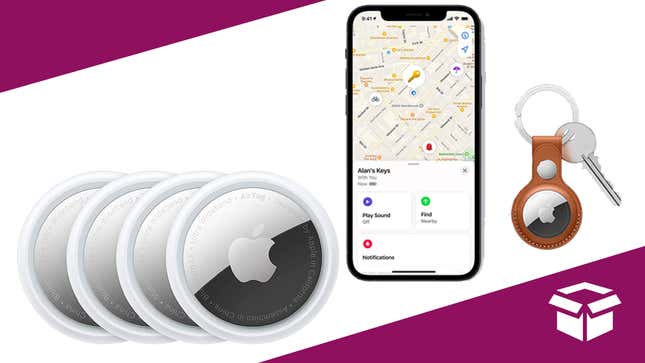 Never lose your keys again with this 10% off deal on Apple AirTags. This pack of four syncs up with the Find My app on iPhones to keep track of belongings and ping them if you, say, drop said item while rushing through the airport in a declaration of love. Four's pretty great: you can clip one to keys, one to your work backpack, and then two for whatever. Passport? Luggage? Probably. Father's Day is around the corner, so you can gift your dad something he won't lose for once! One-tap setup connects your AirTags seamlessly: name each tag and register them to the Find My app, and you're good to go. The app will send an alert if the AirTag travels without you, too—which is a worst-case scenario that the AirTag aims to prevent. Keep track of the essentials with this four-pack at a sweet 10% discount.
Get the Job Done Right With a Dewalt Cordless Drill Driver Set for $99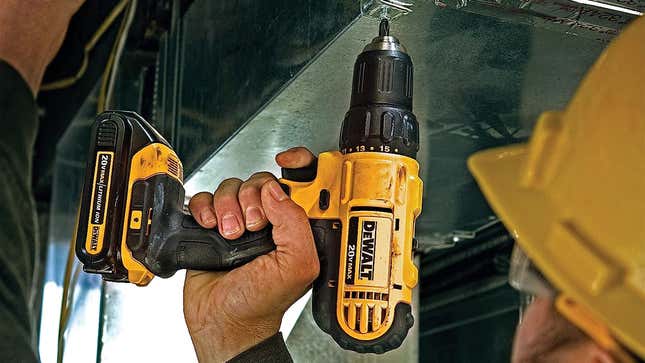 Save your wrist the trouble of turning a screwdriver manually. It would help if you had a drill. This battery-powered Dewalt 20V max impact driver kit comes equipped with an LED which goes on when the trigger is pulled. You'll a clear view of whatever you are drilling or screwing with minimal shadows. Included is a carrying case and charging dock for the battery. This makes for an excellent gift to new homeowners or anyone handy looking to expand their selection of tools. Or dads. Happy Father's Day, dad! You like cordless drills, right? This is the number-one best-selling power drill driver on Amazon, and for good reason. If you want the best drill, you'll be happy to know this Dewalt toolkit is on sale. Get it from Amazon right now for 45% off.
These Portable Inflatable Loungers Will Help You Relax Anywhere Outside—Two for $40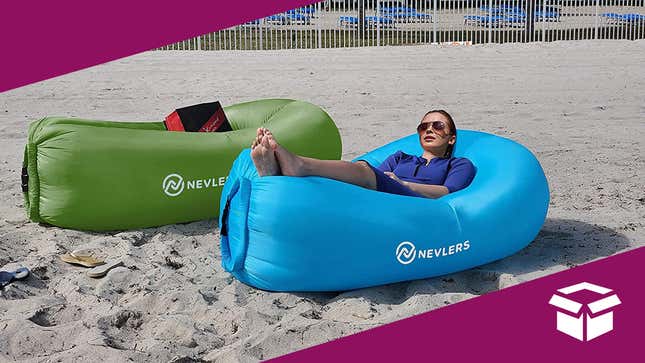 Going to the beach is always a bargaining game. How comfortable can I be versus how much crap and I gonna have to haul from my car? These two ideas are seemingly at odds with each other. That said, this Nevlers inflatable lounger marries those two opposing plans. These inflatable outdoor lounge chairs feel like laying in a hammock when set up and then fold up into a light drawstring bag. No air pump is needed. Just wave around catching the wind and air in your vicinity to fill the lounger. The lounger comes with a peg to keep it adhered to the ground after you get up. These things are ideal for traveling light when headed to the beach, camping, or even music festivals. Amazon has a two-pack of the portable inflatable lounger. Normally you can get two for $60 but right now you'll get two for just $40. That's a 33% discount.
Last Day: Take 20% Off Nike's Summer Ready Sale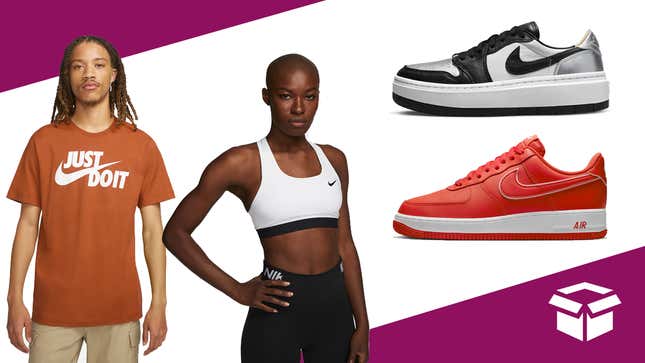 For summer, you need two things: cool clothes and clothes that keep you cool. Whether you're sweating profusely on your daily run or just hanging in the sunshine, Nike's Summer Ready Sale has shoes and clothes for both. Take 20% off with the promo code CAMPNIKE and start building the wardrobe you'll want to wear all summer. We've found so, so many cool pieces already. This sports bra is already on sale—a total deal. And you'll find deals on both the Air Force 1'07 and the Air Jordan in multiple colors. Plus, plenty of basic tees are included in the sale, like this crisp orange summer staple. This little paragraph only scratches the surface of the sale—so dive right in before you dive into summer.
Discover Samsung: This Cordless Stick Vacuum Is $300 Down From $500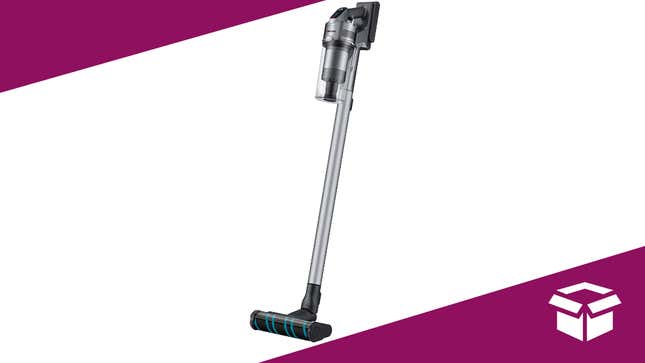 We're psyched for this Discover Samsung event, running for just a few days more. This sale includes Flash Sales, 24-Hour Sales, and some weeklong delights, like this Jet 75 Cordless Stick Vacuum, that's $300 down from $500. This lightweight, multi-surface wonder converts to a handheld for narrow or high surfaces. Because the Samsung Jet 75 has a Turbo Brush and intense suction that works on many surfaces, this is great for families with pets. It's also important to note the 5-Layer HEPA Filtration for this reason; it filters dander, pollen, and other allergens with ease. A nice cordless stick vacuum is a small investment for a super-clean home year-round—not just for spring cleaning!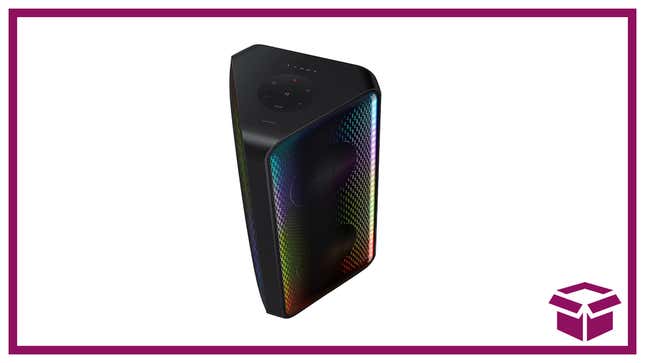 When electronics giants like Samsung and Amazon have a price war, everybody wins. The latest victory during the ongoing Discover Samsung event: The party-friendly MX-ST40B Sound Tower got a 50% discount to $250 on Samsung, and Amazon quickly responded by taking the price tag down even further, to $172. No matter where you decide to cash in on these deals, the MX-ST40B Sound Tower is the ultimate party machine. It's wireless with a 12-hour battery lifespan, brings 160 watts of powerful-yet-clear sound, and is easily portable. It's able to be connected to several other Sound Towers, and water resistant to a IPX5 rating. The LED light effects are customizable via the Sound Tower app (iOS and Android), and can connect to two smart devices simultaneously so there can be more than one DJ in the house. Head to the Discover Samsung event or to Amazon and get your next party started at a huge discount.
Pre-Order the All-New Line of Amazon Devices Just Announced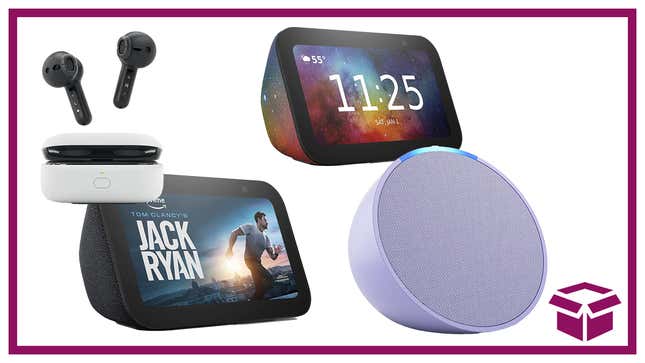 Just when you thought Amazon had the interactive home electronics market all but cornered, the consumer mega-giant has just announced another wave of awesome devices. Our friends at Gizmodo are already pumped about the all-new Echo Buds, a $40 alternative to Apple's AirPods that may reset the earbud market entirely. The small-yet-robust Alexa-powered Echo Pop speaker will be one of the hottest buys of the season at just $40, and the Echo Show line of touchscreen smart speakers gets two new entries: the 3rd Gen Echo Show 5 and the upgraded Echo Show Kids. The Echo Buds are $40 during their introductory period, after which they will settle in at $50 — still vastly more affordable than the AirPods. People with privacy concerns will love the Echo Pop speaker's microphone-off button, which allows you to keep enjoying your music or podcast without concern that the device is picking up your conversation. And both the new Echo Show 5 and Echo Show Kids come with a faster processor, an additional mic for Alexa interaction, and vastly improved audio. The Echo Show Kids still comes with a free year of Amazon Kids+ and easy-to-use parental controls. Amazon's all-star lineup of devices has gotten even better — check it out now!
Step up Your Summer Outfits With 20% Off Oliver Cabell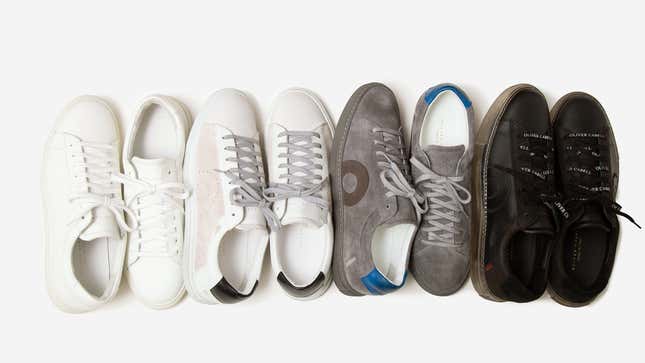 Sometimes the finishing touch an outfit needs is a nice pair of shoes. They have the uncanny ability to pull a whole look together by making it more casual or more considered—depending on the style. Oliver Cabell creates luxury shoes that combine "modern materials" with "old-school techniques." Stuff that will last a lifetime and then some. We love their sneakers, especially—but you can find Chelsea boots and shoe care on their website too. Oliver Cabell prides itself on ethically sourced Italian leather and fair pricing to boot. They're a luxury brand without the markup—using the same materials, workshops, and processes as the more expensive guys, except you pay a fraction of the price. They're real proud of that! Even better? Right now, you can take 20% off with the promo code SPRING23.
This Standing Mirror Is Perfect for the Corner of Your Room at Just $99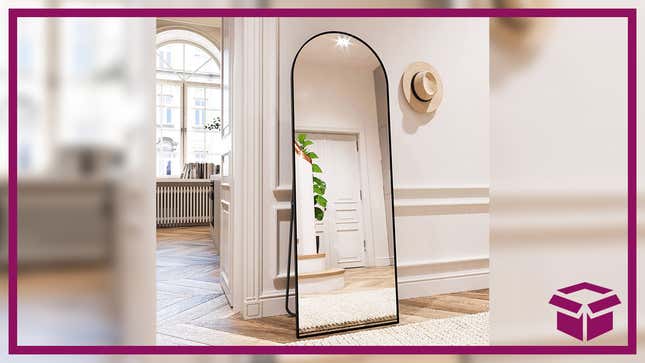 Looking to add some flare and utility to the corner of your room? This standing mirror measures in at 65" by 22" and makes a great accent piece. The frame is full length, stretching to the floor and it comes with either a black, gold, or silver trim to match your aesthetic. It can be freestanding, leaned against the wall, or mounted to the wall. Your choice. And it's easy to install. This standing mirror typically runs for $170 but right now you can get it for just $99. That's a 42% discount. That much savings will put a smile on your face you can see for yourself thanks to the mirror you just hung up.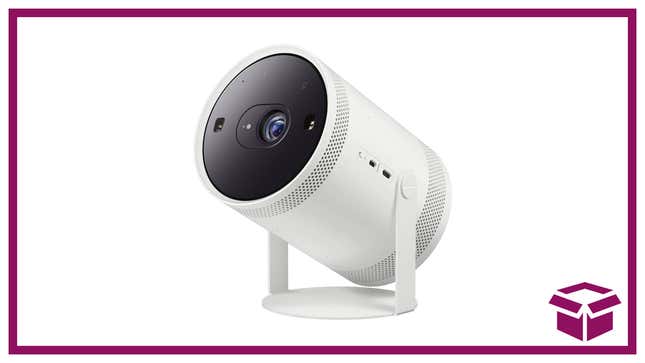 High-end digital projectors are almost always a splurge, but now thanks to the ongoing Discover Samsung Event, the amazingly innovative The Freestyle digital projector is just $600, a $200 markdown from its already competitive price of $800. Amazon's watching, as always, so they've taken the price down by just a hair more, offering The Freestyle for $598. What to make of this can-shaped device that looks more like a spotlight than a powerful digital projector? Its LED light projects a crisp and clear 1080p picture anywhere from 30 inches to a wall-sized 100 inches. It's bright enough to be used during daytime hours with the blinds drawn, and in a dark room the picture really pops. Integrated Alexa and Bixby voice assistants and built-in access to all of the popular streaming services make this a tiny titan that punches well above its size and its price point, especially now with these great deals from Samsung and Amazon.
Lowest Price: Get an Exclusive Lifetime License to Microsoft Office For $30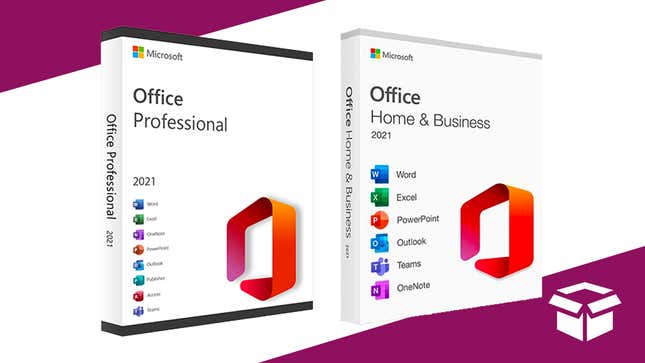 So you're starting your career. Congratulations. I'm sure along the way you'll need Microsoft Office, THE professional suite for THE most professional companies. I think. Anyway. You can grab the full Microsoft Office suite for $30, both for Windows or Mac. This is an exclusive deal, and StackSocial is one of the only places you can grab this lifetime license. Hop on Teams and show your new PowerPoint presentation, then slot it into the proper Excel sheet or Word doc. Whether you're on Mac or Windows, this deal isn't one to miss.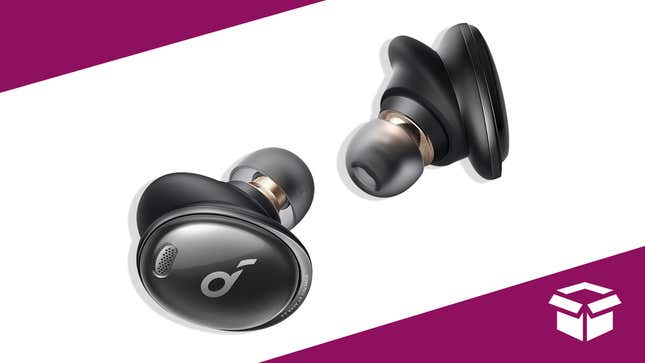 You deserve a quality pair of headphones. Listen to your favorite music and podcasts with active noise-canceling headphones or earbuds so you can focus on exactly what you want to hear–no distractions. Look no further than the Soundcore by Anker Liberty 3 earbuds. The ANC is tailored for any environment, able to adjust automatically. These particular earbuds come recommended by 20 Grammy-winning audio producers to just let that speak to the quality. The Soundcore by Anker Liberty 3 earbuds typically run for $170, but right now Amazon has them down to just $85. That's a 50% discount for a set of high-quality, noise-canceling earbuds.
Save Up to $1500 in Today's Discover Samsung Sale Drops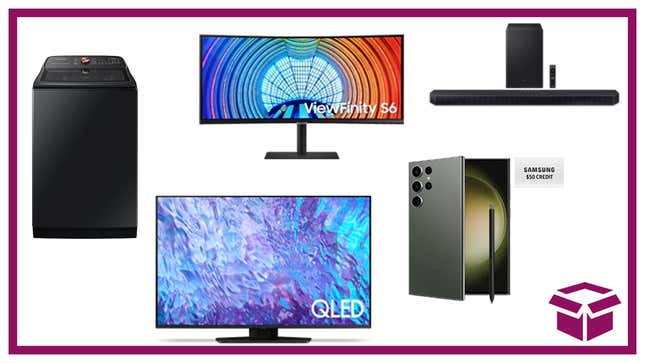 The huge Discover Samsung annual sales event is off and running today, and the deals are dropping fast and furious. Many of Samsung's best products are on sale, including Galaxy phones, 4K Smart TVs, big home appliances, gaming monitors, and more. All this week Samsung will be running Deals of the Day, a 24-hour sale starting at 9 a.m. ET every day, and Flash Deals, which only last from 12-4 p.m. ET every day. Check The Inventory early and often for the latest!
The Legend of Zelda: Tears of the Kingdom Edition of the Nintendo Switch OLED Is in Stock at Amazon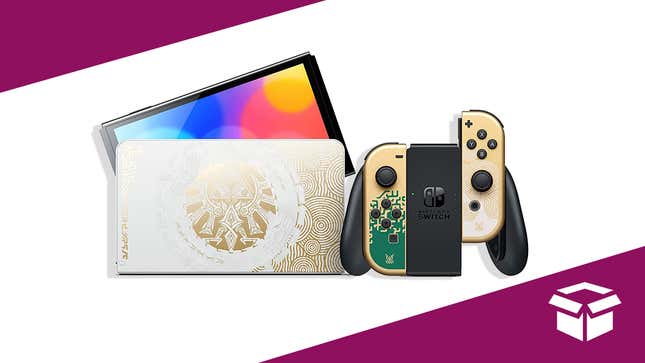 Surprising no one, Nintendo's latest special edition console features designs inspired by The Legend of Zelda: Tears of the Kingdom. Lush golden Joy-Con controllers with green and white illustrations, a white dock with a gold Hylian Crest, and a detailed backside of textures seen throughout the game—it's all just stunning. Plus, this is the Switch OLED model which comes with a larger screen capable of vivid colors and super deep blacks. It's in stock right now at Amazon for $359, but don't sit around waiting. That will surely change real soon. It's a #1 bestseller on Amazon right now for pretty obvious reasons. In addition, The Legend of Zelda: Tears of the Kingdom is out now for $69.











Best Mother's Day Gifts
TECH
Storage
Power
Audio
Home Theater
Computers
Software & Services
PC Parts & Accessories
Mobile Devices
Photography
GAMING
Consoles
Peripherals
PC
PlayStation
Xbox
Nintendo
Toys & Board Games
HOME
Home Goods
Smart Home
Kitchen
Tools & Auto
LIFESTYLE

Apparel & Accessories
Health, Beauty, & Grooming
Camping & Outdoors
Sports & Fitness
Pets
Travel
MEDIA
Online Courses
Movies & TV
Books & Comics
Music
Gift Cards